Protecting Assets - Record Keeping Software FAQ
Record Tree® remembers so you don't have to. One day, you or those close to you, will have to know about the existence and location of your assets and a host of other details about you. Asset protection is a job for Record Tree® record keeping software. Record Tree® creates an accurate memory of what you own and where it is. It creates a profile of everything about you, ensuring that no part of your life is lost or forgotten.
Q. How do we develop the list of items that Record Tree® chronicles?
A: We wanted to create a product that was thorough and comprehensive. The 160+ items we ultimately settled on are the result of a great deal of collaboration with physicians, EMTs, attorneys, accountants, insurance professionals, and a host of other experts. The research and consultation with subject matter experts was exhaustive, leading us to believe that we had created a personal inventory software program that truly captured all areas of an individual's vital information.
Q. You mention the ability to create multiple profiles with this one application. What does that mean?
A: Record Tree® allows you To create profiles for up to Six individuals. This means that all of the vital information for up to six people can be stored and reported with one purchase. That amounts to less than $10 per profile.
Q. Where exactly is my information stored?
A: ALL of the information you enter in your Record Tree® software is securely stored on YOUR computer -- typically on your "C" drive. NO connection to the internet is needed to use the program.
Q. Could this product be helpful in case of identity theft?
A: Yes. Should you find yourself in this unfortunate situation, your Record Tree files provide the details necessary to make quick contact with your most trusted resources and all of your accounts.
Q. What are the chances that I'll really need all of this information one day?
A: 100%. It is inevitable that the time will come when you or someone acting on your behalf will need this crucial information. Rather than frantically searching for the minute details of your accounts and resources, you or those acting for you will have convenient access to the key details of your life.
Q. How long does it take to complete the item lists?
A: The time involved to complete your item profiles will vary from individual to individual. We suggest that you begin by reviewing the Record Tree® item lists and then gathering the information needed to complete the Record Tree® templates. Setting up your Personal Profiles, Medical Information, and Emergency Contacts should take no more than an hour or so. The time and effort required to complete all other information will be dependent on the unique details of your life.
Q. I'm not very computer savvy. Will I be able to figure out how to operate the software?
A: Record Tree® was designed to be intuitive and user-friendly even for those with the most basic computer skills. Installation of the software is straightforward in Wallet Card/USB version. Once installed on your computer, your initial log-on screens will walk you through the process of creating your passwords and personal profiles. After completing these two items, you can immediately begin to review the category and item lists of Record Tree®. Templates are provided to help you capture the most important information for each item. For an extra boost in understanding Record Tree's capabilities, simple instructions will help guide you.
Q. I'm not sure I want to spend $44.95. Is this product really worth the price?
A: Record Tree® gives you the ability to profile up to six individuals for each purchase. For less than nine dollars each, Record Tree® software serves the function of a mentor, counselor, and subject matter expert all rolled into one. A visit to an attorney would likely result in a request to gather the same information that you will store in your Record Tree® files; yet, the purchase price of Record Tree® is a fraction of the cost of a single hour in legal fees. You can easily be prepared for the future--and save some money too--by providing your Record Tree® reports to your attorney, accountant, insurance and financial counselors. Keep in mind: it's not a matter of whether you'll need this vital information, but when.
For more information contact us at or 1.877.348.8733.
Q. I would like to upgrade to version 6.0. How do I migrate my important information?
A. The Help article "Tools: Backup and Restore" within the RecordTree program provides step by step instructions on how to back up and restore your important information. The method for restoring your information can be applied when upgrading your current version of RecordTree to the new 6.0 release, just as you would use it in any other circumstance. One important thing to note, however: case INsensitive usernames (supported in 6.0) do not apply to the restoration of information from previous versions due to a case sensitive username being used to protect the information in the previous version's backup system. You WILL need to ensure that the username is exactly the same as the username used to make the backup. Further backups (made within 6.0) will not require case sensitivity to restore.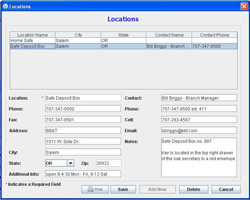 Asset protection starts with knowing what you have and where it is. Create a record of asset locations in Record Tree®. You will absolutely need this information one day.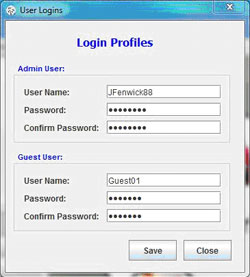 Your information is secure in Record Tree® Create passwords for family members, caregivers or others to access your information if you can't.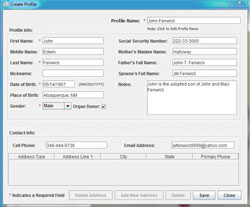 Record up to six profiles of immediate family members. Record Tree® centralizes personal information in one place.