The greatest challenge to organizing your vital documents is in knowing where to start.
Organize Records, Documents and Papers
Every adult should have a system to organize vital records and documents. You want to safeguard the life you spent a lifetime building. A good place to organize the details and locations of records, documents and papers is in Record Tree® software. Record Tree® provides a template for personal profiles and combines it with medical and emergency contact information to print a wallet-sized Emergency Contact card you can carry with you. And, one day, someone may have to have act on your behalf. You can authorize password protected access for a trusted family member so they don't have to search your home, bank or attorney's office for documents if they need them in a hurry. Record Tree® will help get it all together.
Four levels of security to safeguard your personal information
Capacity for up to six user profiles for family members
Pass codes for authorized designees to access and print information
Storage location of vital documents
Edit tools to add/change/delete items
User friendly reports and printouts
Specialized printouts including:

Wallet-sized

Emergency Contact and Vital Information Card

you can carry with you

Medical Alert Summary

with vital information that may be needed during a medical emergency
Organize documents with Record Tree® software. Be prepared for contingencies like disasters, emergencies, accidents or sudden illness.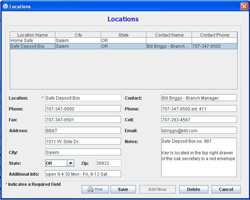 Record the locations of vital documents like wills, titles and securities.