Record Tree® respects your privacy.
Record Tree® Privacy Policy
At Record Tree® your privacy is of the utmost importance. This document fully details our commitment to maintaining your privacy to the fullest. Our policy is divided into six parts:
Information about our customers is an important part of our business, and we are not in the business of selling it to others. We take special precautions to maintain the privacy of the data you provide to us. Record Tree® is the sole owner of data you provide to us, and we will not sell, share, or rent it to others in ways different from what is disclosed in this Privacy Policy or as specifically agreed to by you. We are committed to creating a user experience founded on trust, and we hope the relationships we foster with our customers are long lasting and positive.
Please remember that if you access a third party site from a link on Record Tree®, any information you reveal on that site is not subject to this Privacy Policy. You should consult the privacy policies of each site you visit. We are not responsible for the privacy practices, privacy statements, or content of third party sites.
INFORMATION COLLECTION AND USE
We collect information in the following ways through the Record Tree® Web site:
Cookies
We collect anonymous, non-personal information about your use of our site through the use of "cookies". Cookies are small computer files that we transfer to your computer's hard drive that allow us to know the activities you conduct at our site. The information collected by cookies enables us to deliver information and content specifically tailored to your interests, so we can enhance your experience on our site.
Web Server Log Files
We collect and use IP addresses to analyze trends, administer the site and gather broad demographic information for aggregate use. IP addresses are not linked to personal information, and will not reveal your identity.
Information You Give to Us
You provide most such information when you pay to license software from Record Tree® or communicate with customer service. For example, you provide information such as your name, address, telephone phone number and credit card information when you pay to license software from Record Tree®.
Our Web site may contain links to third party sites that we believe can offer you useful information or services. We do not disclose data you have provided to us to these third party sites. We do not endorse and are not responsible for the privacy practices of such other sites, including those sites in which our logo or other information supplied by us appears. Be aware when you leave our site and enter a third party's site. Read the privacy statements of each and every third party Web site that collects personal data. This Privacy Policy applies solely to information collected within Record Tree®.
We may employ other companies and individuals to perform functions on our behalf.
Any personally identifiable information you may provide to Record Tree® via this Site is protected by the Privacy Policy associated with this Site. Any remarks, suggestions, ideas, messages, information, messages and data submitted by you to Record Tree® through this Site (collectively, the "Messages") shall be and remain the exclusive property of Record Tree®. Therefore, Record Tree® discourages you from submitting Messages that you do not wish to assign to Record Tree®, including confidential information or any original creative materials such as product ideas or original works.
Examples may include fulfilling orders, delivering packages, sending postal mail and e-mail, processing credit card payments, and providing customer service. They have access to personal information needed to perform their functions, but may not use it for other purposes.
We may release personal information to third parties to comply with valid legal requirements such as a law, regulation, search warrant, subpoena or court order. In this event we will notify you unless doing so would violate the law or court order.
In the event that Record Tree® sells all or part of its assets, customer information may be one of the transferred assets.
We are committed to protecting the privacy of children. Our Web site and software are not designed or intended to attract children under the age of 18. We do not collect personal information from any person we actually know is under the age of 18.
We want your information to remain as secure as possible. When you submit sensitive information via the Web site, your information is protected both online and off-line.
Sensitive information you input into our on-line forms is transmitted to us encrypted using the leading encryption software in the industry - Secure Socket Layer (SSL).
We use industry standard practices to protect your information. The servers on which we store personally identifiable information are kept in a secure environment.
If you have any questions about the security at our Web site or this Privacy Policy, please email us at .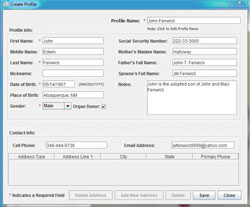 Personal information you enter into Record Tree® stays on your RecordTree USB drive. You, and your authorized designees, are the only ones with access.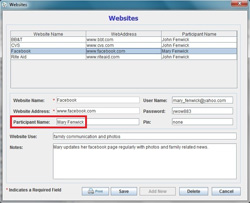 Participants are those who "own" an item or are responsible for it.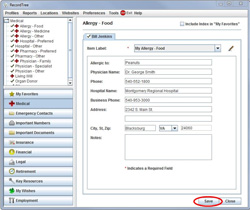 When you save information in Record Tree® it stays on your RecordTree USB drive. Record Tree® does not require you to connect to the internet where your privacy might be more easily compromised.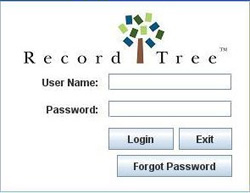 Access to Record Tree® is password protected. Only you and your authorized designees may ever see your personal and private information.